1981 - It's good....it's Angus, Angus, Angus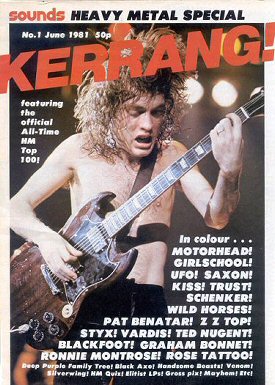 The New Wave of British Heavy Metal was in full flow. In June 1981, the music weekly "Sounds" launched what was originally planned to be a 1 off Heavy Metal special called KERRANG!.

The first edition featured AC/DC's Angus Young on the cover photgraphed by the great Ross Halfin, Angus is in classic form schoolboy uniform, guitar playing guise: 'Whole Lotta Rosie' (recorded live at the Apollo) had been voted the ultimate metal track of all-time inside the issue.

The Stranglers record "Live at the Apollo", another great live album. The release of this CD has been marred by the release of a "rogue version" of lesser quality.

The Who play 2 gigs at the Apollo. The venue was a particular favourite of the band.

Commenting in the Daily Record in 2000, Roger Daltrey said:

"I remember the famous carpet which said: 'It's good... it's Green's' as you walked down to your seat. I wish I'd kept a bit of the carpet as a souvenir. It would be a collector's item now."

The Who played many sell-out gigs at the venue. And Roger will never forget standing on the theatre's 20ft high stage, watching the balcony bounce up and down.

"If we were rocking and the crowd were dancing you could actually see it moving several feet in the middle. It was terrifying to watch.

"The pure energy of the place was incredible."